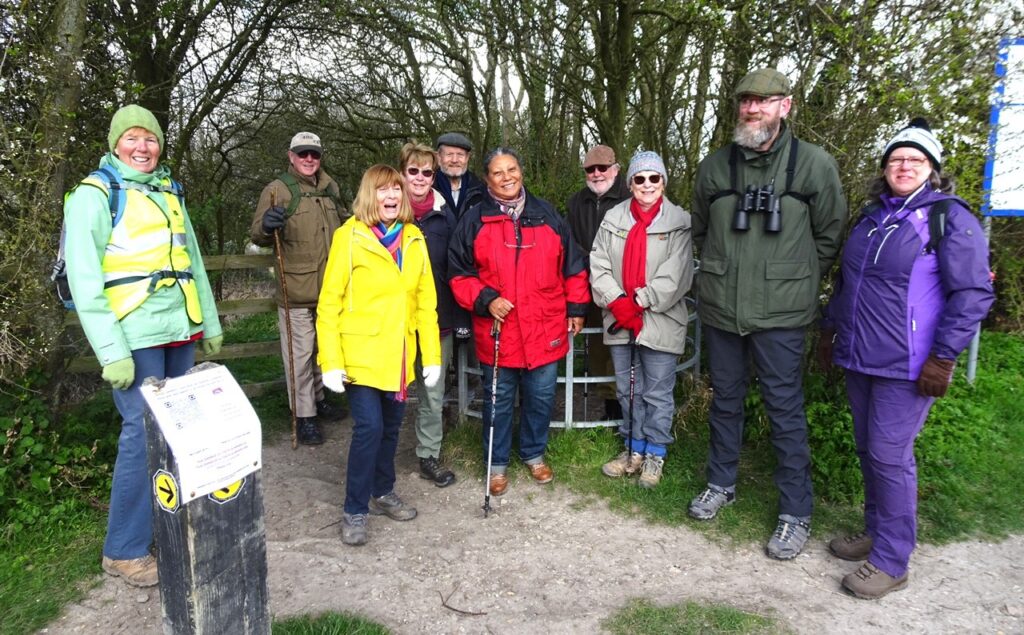 The first 2022 Wendover Canal Trust walk was successful, despite dire warnings of snow showers. Nine stalwart members of the public joined our first walk from the new Meads Farmhouse Kitchen tea rooms.
The tour was led by Jenny Brice, assisted by Peter Bird and Christopher Sargeant. This was a three mile walk up to the Wendover canal at bridge 4, returning around the Wilstone reservoir. Some uneven steps and slopes needed to be navigated, so we were pleased to see all attendees were suitably clad. Although cold, the sun shone throughout, the soil was dry underfoot, so no problems of mud were encountered.
A brief history of Meads Farm and the Wilstone reservoir were covered during the walk along the track up to the canal. The reservoir is now used by the Hertfordshire Wildlife Trust. At bridge 4 the swing bridge history and restoration were described by Chris. Then walking along the towpath, the work involved at the Whitehouses Pocket Park opposite was highlighted and future use of the welcoming benches encouraged. All were interested by the past details of the Whitehouses original steam pumping station, and the update to its current use as a water height gauging weir.
The walk turned off onto the footpath around the reservoir, this followed through the adjoining fields and is always well used by dog walkers. At one point a small stream supplying water to the reservoir is crossed by a wooden plank bridge. As we arrived back in the wood alongside the water, we pointed out the track to the Wildlife Hide on the right. It is intended that during the summer a volunteer from the Wildlife Trust may be on hand to take anyone interested to the hide for a detailed description of the bird population.
A rare sighting!
The walkers continued around the reservoir where we met a number of excited bird watchers. A pink footed goose was in the vicinity, apparently this is rare to find these so far south in the UK. We all scanned the field some with binoculars. We could see the small brown bird, unfortunately its pink feet were hidden by the surrounding grass.
Then we made our way carefully down the steps back to the Meads Farm Kitchen for a well deserved drink. Our party commandeered the large table and spent the next hour happily chatting. A good morning's walk with agreeable company was enjoyed by all.
These walks will be monthly on the first Saturday of the month up to and including September. Meads Farm Kitchen is extremely popular, but they are opening additional car parking on the field at weekends.