Family Canal Camps are back!
Join us for a weekend of fun environmental activities at Whitehouses Pocket Park on the Wendover Canal of the Grand Union Canal.

Activities will help enhance waterways for wildlife and to teach children what it is like to 'live like a Navvy'!
Event Dates – Friday 14th to Sunday 16th April.

Organised by the Inland Waterways Authority (IWA), who will be working with Wendover Canal Trust (WCT).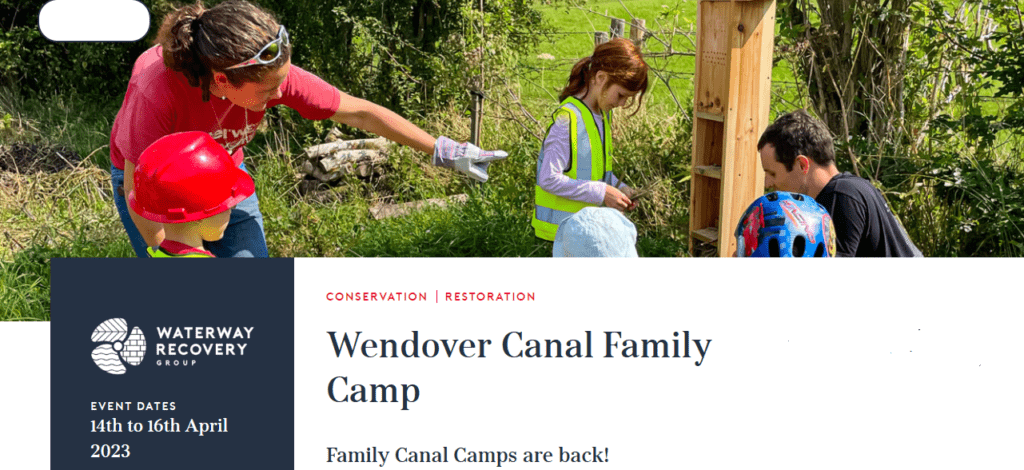 Most Canal Camps run for seven days. But the Family Camps run from Friday to Sunday and cost just £25 per person. This includes accommodation and all meals.
If you do not need accommodation – come along for the daytime activities!
The activities involved over the weekends are chosen to help make practical improvements to the canal. They also help enhance the waterways for wildlife, plus families learn first-hand about restoring the UK's derelict waterways.


At the last Family Camp on the Wendover Canal, the families made clay 'toppers' for bamboo poles. These were used to mark areas where snowdrop bulbs were planted on the banks of the canal restoration. They cut back vegetation and helped plant 1,000 snowdrop bulbs across the course of the weekend. All families rose to the challenge of making bird boxes which were then put up in the trees.

Quotes
Commenting on one the last Family Camps, camp leader Alex Melson said, "It was great to see all the children enjoying themselves and really getting down to work. The parents and children were working together as a team, with many of them commenting on how nice it was to be outside together and getting things done. The children want to come back again in the spring to see their bird boxes and to check how the snowdrops have grown. We can't wait to welcome them back."

Jenny Brice from Wendover Canal Trust adds, "The site looks fantastic. We were initially unsure about how the Family Camp would work out, but the children were so enthusiastic and committed to the jobs. We got so much done over the weekend."
SAFEGUARDING

Family camps require a young person to be accompanied by an adult who holds parental responsibility, such as a parent, guardian or youth worker.
The Activity Leader is responsible for ensuring accompanying adults are aware of their responsibility for supervision and direct care. This includes briefing volunteers at the start of the activity and filling in a signing form, to confirm they understand their responsibilities.
All Activity Leaders have a DBS check.
Booking
When: 14 th -16 th April 2023
Where: Whitehouses Pocket Park on the Wendover Canal of the Grand Union Canal (Tring)
Accommodation: Green Park Activity Centre
Price: £25 per person
Bookings:
–Email verena.leonardini@waterways.org.uk .
–Telephone: 01494 783 453 Ext 607