Despite dire warnings of rain and an overcast sky the walkers were ready at the Meads Farmhouse Kitchen tea rooms to learn about the heritage along the canal. Bob Wheal WCT publicity attended and distributed books and leaflets from the trust. The walkers came from all across the wide area covered by the Chiltern Society so had enjoyed their car journey to the start of the walk.
The tour was led by Jenny Brice, assisted by Katy & Stewart Todd from the Chiltern Scy and Colin the societies photographer. This was a three mile walk up to the Wendover canal at bridge 4, and return via the Wilstone reservoir. It was pretty windy and exposed along the bank of the reservoir and I was pleased to see all attendees were suitably clad.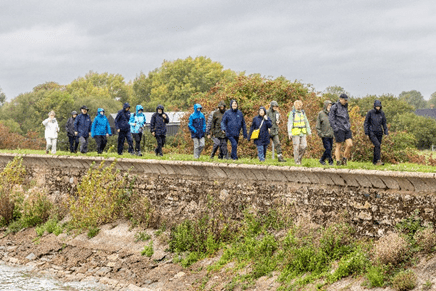 A brief history of Meads Farm and the Wilstone reservoir was covered during the walk along the track up to the canal. The reservoir is now used by the Hertfordshire Wildlife Trust, the Tring Fisheries and of course the owners CRT.
At bridge 4 the swing bridge history and bulkhead restoration highlighted the fact that original stones and lime mortar were required to be used. We headed towards the Tring working site looking at the various stages of restoration, unfortunately there were no restoration workers on site that day. Then walking back along the towpath, the work involved at Whitehouses Pocket Park opposite was covered and future use of the welcoming benches encouraged. All were interested by the past details of the Whitehouses original steam pumping station, and the update to its current use as a water height gauging weir.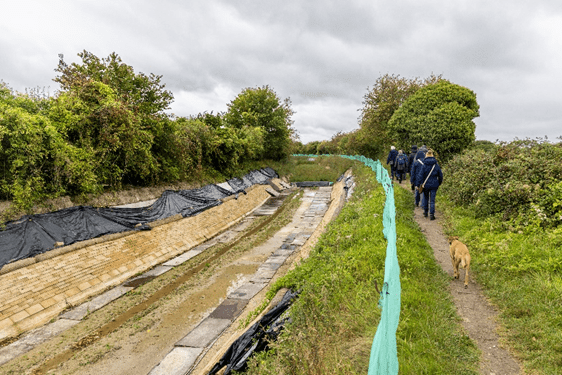 We made our way carefully down the steps back to the Meads Farm Kitchen for a well deserved cream tea. Our party commandeered a corner area and spent the next hour happily chatting. A good afternoon's walk with agreeable company was enjoyed by all. We hope that the walk was relevant to the Chiltern Society Heritage brief.